By Nicole Campbell, Class of 2020
Eight years ago, Booth launched a new track of its wildly popular Edward L. Kaplan, '71, New Venture Challenge (NVC), focused on launching and supporting social enterprises and companies. In less than a decade, the John Edwardson, '72, Social New Venture Challenge (SNVC) has grown to roughly the same size as the original contest in terms of applicant volume and awarded prize money.
SNVC teams can be in the for-profit or non-profit space, and all must develop a business model centered on a social mission along with a viable plan for financial independence--whether that be through any combination of earned income, government aid/grants, philanthropy, etc.
One of this year's SNVC teams is a group called First Week Flip Phone: The Smartphone Detox, of which I recently became the fifth (and ultimate) member. Our goal is to cheekily provide a platform and products to help pairs of people (aka Flip Phone Buddies) rethink their smartphone usage and technology in general during the challenge. At the very core of the idea, Buddies agree to hold each other's smartphones for one week, using simple flip phones to help the "detox" process.
FWFP is the brainchild of our CFO (Chief Flip Officer), Laurence Warner (MA '19), who acted in London prior to winning a Fulbright Scholarship to attend UChicago's Computation program. On a retreat/internship in Colorado, he initiated the first-ever week-long challenge, and he's successfully completed 12 months of weekly detoxes, which is roughly a total of three months smartphone-free during the past year.
Rounding out the rest of the team is Abhishek (Abe) Pandit (MA '20), Bhargav Desikan (MA '20), and Yuxin Zhang (College, '22). They bring a wide range of skills including linguistics, behavior change in communications, data science, AI research, python development, design, and student outreach. As the team's lone Boothie, I'm excited to share my product management and marketing skills while "repping" for Booth in the process.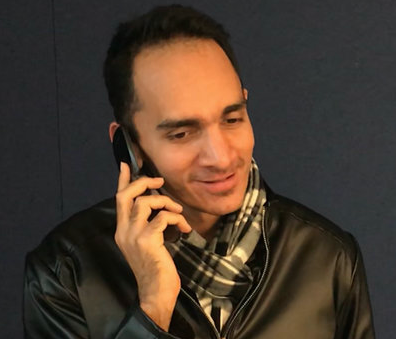 Abhishek Pandit (MA, '20)
Bhargav Desikan (MA, '20)
Once this was an idea, fueled by finding an old phone in the back of a drawer. Then Laurence launched a single 2-Buddy challenge, followed by 10 more Buddies, with the most recent totals being 40-plus Buddies and a whole high school student group of Buddies--and all solely by word of mouth. This May 5th, we're launching the largest challenge to date, and we'd like to extend an invitation to those who want to detox with us and join FWFP's Centurions (aptly named because it's limited to the first 100 participants). Interested folks can reach out to Laurence Warner to get on the list.